Dar casa a las voces infantiles, reflexiones desde la historia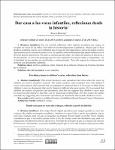 Date
2016
Abstract
"En este artículo reflexiono sobre algunas paradojas que surgen al rescatar las voces de las niñas y los niños en las investigaciones académicas. Analizo qué se hace desde la academia con las voces infantiles una vez que las investigaciones o proyectos llegan a su fin. Aquí planteo que es necesario pensar en la voz infantil como un documento que puede enmarcarse en diversos géneros discursivos. En tanto se sostiene que las niñas y los niños son autores de discursos y de documentos, en este texto propongo que las voces infantiles sean preservadas y compartidas, con la finalidad de que puedan ser reutilizadas y reinterpretadas. Para ello sugiero la construcción de archivos con documentos infantiles."
"This article discusses some paradoxes that arise when the voices of children are used in academic research. The author analyzes what academia does with children' s voices when projects and research end. An argument is proposed that it is necessary to think about children' s voices as documents that can be framed in different discourse genres. If it is assumed that children are authors of speeches and documents, then this text suggests that children' s voices must be preserved and shared so that they can be reused and reinterpreted. For this reason the author concludes by suggesting the construction of archives for documents that include children' s voices."
"Este artigo discute alguns paradoxos que surgem quando as vozes das crianças são usadas na pesquisa acadêmica. Analisou-se o que é feito a partir da academia com as vozes das crianças, uma vez que as pesquisas ou projetos devem chegar a um fim. Nesse sentido, considerou-se que é necessário pensar sobre a voz da criança como um documento que pode ser enquadrado em diferentes gêneros discursivos. Partindo do princípio de que as crianças são autoras de discursos e documentos, o presente trabalho propõe que as vozes das crianças sejam preservadas e compartilhadas, a fim de que eles possam ser reutilizadas e reinterpretadas. Para isso, foi sugerida a construção de arquivos com documentos infantis."
xmlui.dri2xhtml.METS-1.0.item-relation
Sosenski Correa, Susana Luisa, "Dar casa a las voces infantiles, reflexiones desde la historia", Revista Latinoamericana de Ciencias Sociales, Niñez y Juventud, Centro Internacional de Educación y Desarrollo Humano, Universidad de Manizales, Manizales, v. 14, n. 1, enero-junio de 2016, p. 43-52.
Name:

101_2016_dar_casa_sosenski_rih.pdf

Size:

344.8Kb

Format:

application/pdf

Description:

Texto completo