Impresiones freudianas: aparato psíquico y metafórica de la escritura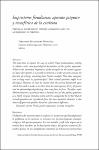 Date
2016
Author
Betancourt, Fernando
Abstract
"El objetivo del presente texto es explorar la manera en que Freud planteó el problema de la escritura en relación con las descripciones metapsicológicas del aparato psíquico. En este sentido, ¿cuál es la importancia teórica de la metáfora en la descripción tópica del aparato anímico? ¿Es posible pensar en una ampliación semántica de la función escriturística a partir de las propias deliberaciones freudianas? ¿Cómo se relacionan metáfora y escritura en el saber psicoanalítico? Éstas son las preguntas centrales que buscan ser desarrolladas, aunque se debe explicitar que el marco general de referencia que da pie a su tratamiento no es otro que la teoría de sistemas contemporánea y las implicaciones epistemológicas que se desprenden de sus enfoques. Así, se busca calibrar la pertinencia de una perspectiva que ve al aparato psíquico como un sistema operativo de alta complejidad, autopoiético por el hecho de que sus operaciones enlazadas se reproducen a partir de los mismos elementos operativos, además de que exhibe cualidades autoorganizativas gracias a la diferenciación funcional."
"This text aims to explore the way in which Freud problematizes writing in relation with meta-psychological descriptions of the psychic apparatus. Which is the theoretical importance of the metaphor in the animic apparatus' place description? Is it possible to think on a wider semantic around the function of writing, stemming from Freud's analysis? How does metaphor and writing relate in psychoanalysis? These central questions ought to be developed. However, it must be cleared that the general framework upon which this work is made, is no other than the contemporary theory of systems and the epistemological gatherings that came from its focus. Therefore, equilibrium between a particular view is heeded: this sees the psychic apparatus as a highly complex operative system which is autopoietic by the fact that its crossed operations are reproduced from the same operative elements; it also shows self-governed qualities based on a functional difference."
xmlui.dri2xhtml.METS-1.0.item-relation
Betancourt Martínez, Fernando de Jesús, "Impresiones freudianas: aparato psíquico y metafórica de la escritura", Historia y Grafía, Universidad Iberoamericana, México, v. 23, n. 46, enero-junio de 2016, p. 79-107.
Name:

41_2014_impresiones_freudianas_betancourt_rih.pdf

Size:

176.9Kb

Format:

application/pdf

Description:

Texto completo