Enseñar historia de la infancia a los niños y las niñas: ¿para qué?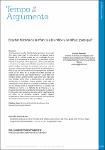 Date
2015
Abstract
"¿Es importante enseñar historia de la infancia en la escuela? ¿Por qué y para qué? En este artículo se plantea que la historia de la infancia puede ser un contenido de gran utilidad en la enseñanza de la historia. La enseñanza de una historia en la que los niños aparezcan como actores sociales y no sólo como sujetos subordinados al poder de los adultos podría facilitar procesos de empatía y provocar que los alumnos adviertan que la participación de las personas de su edad (y no sólo de los adultos) es importante en el devenir social. Si los niños en la escuela solo leen que hay un conjunto de actores que "hacen historia" y que éstos son siempre adultos, podrían pensar que tienen una capacidad muy limitada como niños o adolescentes de participar y transformar la sociedad, incluso podrían creer que su participación como niños no es posible ni deseable. A partir de una mirada desde la disciplina histórica, se plantea una reflexión en torno a la historia de la infancia y a su importancia. Para ello, se analiza la presencia de los niños en los libros de texto gratuitos, las causas de la marginación de los niños en la narrativa histórica escolar, algunas problemáticas sobre la historia de la infancia y la importancia de enseñar la historia de los niños y las niñas."
"Is it important to teach history of childhood at school? Why and what for? This article suggests that history of childhood may be a very useful content in history teaching. Teaching a history where children appear as social actors and not just as subjects who are subordinate to the power of adults might make empathy processes easier and motivate students to think that the participation of individuals at their age (and not only adults) is significant for social change. If children at school only read that there is a set of actors who "make history" and that the latter are always adults, they might think to have a rather limited capacity as children or adolescents in terms of participating and changing society, they might also believe their participation as children is neither possible or desirable. From the perspective of history as a discipline, this article suggests a reflection on the history of childhood and its significance. To do this, children's presence in free textbooks is analyzed, as well as the causes of children's marginalization in the historical narrative at school, some issues on history of childhood, and the significance of teaching the history of boys and girls."
"É importante ensinar história da infância na escola? Por que e para quê? Neste artigo se propõe que a história da infância pode ser um conteúdo de grande utilidade no ensino da história. O ensino de uma história em que as crianças apareçam como atores sociais e não somente como sujeitos subordinados ao poder dos adultos poderia facilitar processos de empatia e fazer os alunos perceberem que a participação das pessoas de sua idade (e não somente dos adultos) é importante para o devir social. Se as crianças na escola somente leem que há um conjunto de atores que "fazem história" e que estes são sempre adultos, poderiam pensar que têm uma capacidade muito limitada como crianças ou adolescentes de participar e transformar a sociedade, inclusive poderiam acreditar que a sua participação como crianças não é possível nem desejável. Fazendo‐se uma análise a partir da disciplina histórica, sugere‐se uma reflexão em torno da história da infância e sua importância. Para isto, analisam‐se a presença das crianças nos livros‐textos gratuitos, as causa da marginalização das crianças na narrativa histórica escolar, algumas problemáticas sobre a história da infância e a importância de ensinar a história das crianças."
xmlui.dri2xhtml.METS-1.0.item-relation
Sosenski Correa, Susana Luisa, "Enseñar historia de la infancia a los niños y las niñas: ¿para qué?", Tempo e Argumento, Universidade do Estado de Santa Catarina, Centro de Ciências Humanas e da Educação, Programa de Pós-Graduação em História, Florianópolis, v. 7, n. 14, enero-abril de 2015, p. 132-154. DOI: https://doi.org/10.5965/2175180307142015132.
xmlui.dri2xhtml.METS-1.0.item-relation.hasformat
HTML
Name:

61_2015_ensenar_historia_sosenski_rih.pdf

Size:

303.7Kb

Format:

application/pdf

Description:

Texto completo