Los usos de la historia en los inicios de la contrainsurgencia novohispana: Manuel Abad y Queipo y Manuel Ignacio González del Campillo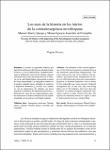 Date
2008
Abstract
"El recurso al argumento histórico por parte de los defensores del régimen colonial produjo diversas, y a veces contradictorias, interpretaciones. Aquí se analizan los casos de dos obispos, quienes ofrecieron una lectura providencialista de la historia, en la cual España habría representado su papel de forma irreprochable. Las innegables sombras en la gestión española fueron atribuidas al regalismo y despotismo borbónico, y, en todo caso, estaban en vías de solucionarse. No obstante, sus textos muestran la influencia del liberalismo peninsular, a diferencia de varios de sus contemporáneos, quienes rechazaron la historia inmediata de una España empeñada en convertirse en un Estado moderno."
"The defenders of the colonial regime's use of the historical argument produced diverse and sometimes contradictory interpretations. This essay analyzes the case of two bishops who presented a providence-based interpretation of history, in which Spain played its part irreproachably. Regalism or Bourbon despotism were to blame for the undeniable grey areas present in Spanish management and, in any case, they were being taken care of. Nevertheless, their texts show the influence of counter-insurgence peninsular liberalism, contrary to other writers of the day, who rejected the immediate history of a Spain, a country determined to become a modern State."
xmlui.dri2xhtml.METS-1.0.item-relation
Guedea, Virginia, "Los usos de la historia en los inicios de la contrainsurgencia novohispana. Manuel Abad y Queipo y Manuel Ignacio González del Campillo", Anuario de Historia de la Iglesia, Universidad de Navarra, Facultad de Teología, Pamplona, v. 17, 2008, p. 31-42.
Name:

223_2008_usos_historia_guedea.pdf

Size:

202.0Kb

Format:

application/pdf

Description:

Texto completo