Historiografía y diferencia: el orden procedimental de la investigación histórica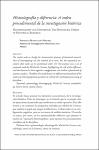 Date
2018-07
Author
Betancourt Martínez, Fernando
Abstract
"El artículo busca precisar los elementos característicos de la investigación histórica. Parte de interrogar, no el método que le es propio, sino las ejecuciones secuenciales que conforman su orden operativo. Para ello recurre a un conjunto de propuestas realizadas por Michel de Certeau, que resaltan el papel que juegan la diferencia y el observador en su configuración cognitiva, pero en un marco de análisis sistémico. El estudio se centra, por tanto, en las potencialidades reflexivas que presenta la noción de "operación historiográfica", para repensar los procesamientos metódicos de la disciplina."
"The article seeks to clarify the characteristic features of historical research. Part of interrogating nor the method of its own, but the sequential executions that make up its operational order. For this purpose uses a set of proposals made by Michel de Certeau, highlighting the role of the difference and the observer in their cognitive configuration, but within a framework of systemic analysis. Therefore, the study focuses on reflective potentialities of the notion of historiographical operation to rethink the methodical processing of discipline."
xmlui.dri2xhtml.METS-1.0.item-relation
Betancourt Martínez, Fernando, "Historiografía y diferencia. El orden procedimental de la investigación histórica", Historia y Grafía, Universidad Iberoamericana, Ciudad de México, n. 51, julio-diciembre de 2018, p. 293-321.
Name:

222_2018_historiografia_diferencia_betancourt.pdf

Size:

170.4Kb

Format:

application/pdf

Description:

Texto completo