Una carta inédita de don Antonio Valeriano, 1578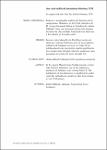 Date
2015-01
Author
León-Portilla, Miguel
Abstract
"En este texto, Miguel León-Portilla presenta una carta que Antonio Valeriano, uno de los ayudantes indígenas de Sahagún, envió al rey Felipe II. La publicación de este documento resulta significativa para comprender el papel cultural y social que estos personajes tuvieron a lo largo del siglo XVI."
"In this paper, Miguel León-Portilla presents a letter that Antonio Valeriano, one of the indigenous assistants of Sahagun, sent to King Felipe II. The publication of this document is significant to understand the cultural and social role that these characters in XVI Century."
xmlui.dri2xhtml.METS-1.0.item-relation
León-Portilla, Miguel, "Una carta inédita de don Antonio Valeriano, 1578", Estudios de Cultura Náhuatl, Universidad Nacional Autónoma de México, Instituto de Investigaciones Históricas, Ciudad de México, v. 49, enero-junio de 2015, p. 199-207.
Name:

89_2015_carta_valeriano_portilla_rih.pdf

Size:

510.6Kb

Format:

application/pdf

Description:

Texto completo