Tras las huellas de un fantasma: apuntes para la historia del Archivo del Provisorato de Indios y Chinos del Arzobispado de México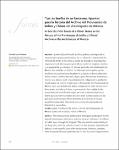 Date
2018
Author
Lara Cisneros, Gerardo
Abstract
"La principal justificación jurídica, política y teológica de la colonización española de América, fue la 'salvación' espiritual de los millones de almas de los indios a través del Evangelio. Esta tarea fue responsabilidad del rey quien para ello se auxilió de la Iglesia Católica, y en especial de sus obispos. En el caso particular del Arzobispado de México, los prelados se valieron de tribunales episcopales que les auxiliaron en sus funciones de gobierno y justicia. A dichos tribunales se les conoció como la Audiencia Episcopal o Provisorato Eclesiástico, mismo que, dado el perfil mayoritariamente indígena de la población novohispana, se dividió en dos: uno, el Provisorato del Arzobispado de México, que tuvo jurisdicción sobre la feligresía no india; el otro fue el Provisorato de Indios y Chinos, cuya vocación fue la vigilia de las costumbres de los indios (la mayor parte de la documentación es sobre asuntos matrimoniales), así como todo lo relacionado con las prácticas supersticiosas de los naturales. Este artículo se ocupa, específicamente de la historia de los archivos de esta Audiencia Eclesiástica para indios."
"The main juridical, political and theological justifi cation for the Spanish colonisation of America was the spiritual 'salvation' of millions of Indian souls through the Gospels. This task was the responsibility of the king, who used the Catholic Church for that purpose, especially the bishops. In the specific case of the archdiocese of Mexico, prelates were helped by the episcopal tribunals in their functions of governance and justice. These tribunals were known as an episcopal audiencia or ecclesiastical provisoratowhich, due to the mostly native profile of the population of New Spain, was divided in two: the provisorato of the archdiocese of Mexico, which had jurisdiction over non-natives; and the provisorato de indios y chinos, which shadowed native customs (most of the documentation relates to matrimonial matters) as well as their superstitious practices. This paper specifically addresses the history of the archives of this ecclesiastical audiencia for the natives."
xmlui.dri2xhtml.METS-1.0.item-relation
Lara Cisneros, Gerardo, "Tras las huellas de un fantasma. Apuntes para la historia del Archivo del Provisorato de Indios y Chinos del Arzobispado de México", Revista de fontes, Universidade Federal de São Paulo, Escola de Filosofia, Letras e Ciências Humanas, São Paulo, v. 5, n. 9, 2018, p. 133-149. DOI: https://doi.org/10.34024/fontes.2018.v5.9144.
Name:

167_2018_huellas_fantasma_lara_rih.pdf

Size:

746.3Kb

Format:

application/pdf

Description:

Texto completo