La expedición del capitán Bartholomew Sharp a partir de un mapa (1680-1681)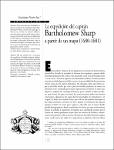 Date
2015-08
Author
Pinzón-Ríos, Guadalupe
Abstract
"Este texto tiene por finalidad analizar la expedición del navegante inglés Bartholomew Sharp a través del mapa que se hizo de su travesía. Lo anterior debido a que este mapa representa el nuevo impulso que cobraron las incursiones inglesas por la Mar del Sur, con distintos fines que fueron tanto la obtención de botines como la ubicación de lugares estratégicos que sirvieran a otros navegantes para incrementar su presencia en dicho océano."
"The aim of this text is to analyze the expedition of English navigator Bartholomew Sharp based on the map made of the expedition. This map represents the new impetus of English incursions in the South Sea and their different objectives, including the pursuit of booty and finding strategic spots for other navigators to increase their presence in the Pacific."
xmlui.dri2xhtml.METS-1.0.item-relation
Pinzón Ríos, Guadalupe, "La expedición del capitán Bartholomew Sharp a partir de un mapa (1680-1681)", Antropología. Boletín Oficial del Instituto Nacional de Antropología e Historia, Instituto Nacional de Antropología e Historia, México, n. 100, 2015, p. 105-112.
Name:

74_2015_expedicion_capital_bartholomew_pinzon_rih.pdf

Size:

393.0Kb

Format:

application/pdf

Description:

Texto completo