Un crimen cometido en estado de ira e intenso dolor. Degeneracionismo y psiquiatría en la defensa de Jorge Eliecer Gaitán a Jorge Zawadzky, Colombia, 1935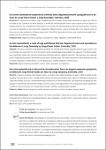 Date
2015
Author
Ríos Molina, Carlos Andrés
Abstract
"El reconocido periodista Jorge Zawadzky asesinó al médico Arturo Mejía Marulanda en agosto de 1933 en la ciudad de Cali, Colombia. Dos años después, la familia del fallecido decidió llevar a cabo un juicio contra el agresor. El abogado defensor fue Jorge Eliecer Gaitán, quien usó el estado mental del periodista como atenuante jurídico, empresa en la que fue apoyado por dos reconocidos psiquiatras: Miguel Jiménez López y Edmundo Rico. Este artículo analiza la forma en que estos psiquiatras utilizaron argumentos "científicos" para demostrar que una "pasión incontrolada" justificaba la acción criminal de Zawadzky."
"The famous journalist Jorge Zawazky murdered the medical doctor Arturo Mejía Marulanda in august 1933 in Cali city, Colombia. Two years after the crime, the victim's family started a legal process against the aggressor. The defense lawyer was Jorge Eliecer Gaitan, who used the mental state of the journalist as a juridical attenuant. This argument was supported by two recognized psychiatrists: Edmundo Rico and Miguel Jimenez López. This article discusses how both psychiatrists used "scientific" arguments to show that an "uncontrolled passion" justified Zawadzky's criminal action."
"O famoso jornalista Jorge Zawazky matou ao médico Arturo Mejía Marulanda em agosto 1933 na cidade de Cali, Colombia. Dois anos após o crime, a família da vítima iniciou um processo criminal contra o agressor. O advogado de defesa era Jorge Eliécer Gaitán, que usou o estado mental do jornalista como um attenuant jurídica. Este argumento foi apoiado por dois psiquiatras reconhecidos: Edmundo Rico e Miguel Jimenez López. Este artigo discute como os psiquiatras usados argumentos "científicos" para mostrar que uma "paixão descontrolada", justificou a ação penal do Zawadzky."
xmlui.dri2xhtml.METS-1.0.item-relation
Ríos Molina, Carlos Andrés, "Un crimen cometido en estado de ira e intenso dolor. Degeneracionismo y psiquiatría en la defensa de Jorge Eliecer Gaitán a Jorge Zawadzky, Colombia, 1935", Trashumante. Revista Americana de Historia Social, Universidad Autónoma Metropolitana, Unidad Cuajimalpa / Universidad de Antioquia, Ciudad de México / Medellín, n. 5, enero-junio de 2015, p. 38-59. DOI: https://doi.org/10.17533/udea.trahs.n5a03.
Name:

63_2015_crimen_cometido_rios_rih.pdf

Size:

325.3Kb

Format:

application/pdf

Description:

Texto completo