Los pueblos indígenas de Iberoamérica ante la crisis de 1808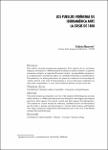 Date
2008
Author
Navarrete, Federico
Abstract
"Este artículo presenta un panorama comparativo de la situación de las sociedades indígenas americanas en 1808 alrededor de tres líneas de análisis centrales: su grado de autonomía ecológica, su capacidad de control cultural y su capacidad de etnogénesis. La comparación se extiende más allá de las sociedades sedentarias y estratificadas de Mesoamérica y los Andes para incluir a los grupos no estatales de las tierras bajas de América del Sur y del norte de Nueva España y sirve de base para comprender sus reacciones contrastantes a la crisis de los imperios ibéricos iniciada en ese año."
"This article presents a comparative overview of the situation of the Indigenous societies of the Americas in 1808 around three main lines of analysis: their degree of ecological autonomy, their capacity for cultural control, and their capacity for ethnogenesis. The comparison extends beyond the sedentary, stratified societies of Mesoamérica and the Andes to include non-State groups in Lowland South America and Northern New Spain, and tries to explain their contrasting reactions to the crisis of the Iberian empires that started that year."
xmlui.dri2xhtml.METS-1.0.item-relation
Navarrete Linares, Federico, "Los pueblos indígenas de Iberoamérica ante la crisis de 1808", Revista de História, Universidade de São Paulo, Brasil, n. 159, diciembre de 2008, p. 17-56, DOI: https://doi.org/10.11606/issn.2316-9141.v0i159p11-35.
Name:

19_2008_pueblos_indigenas_navarrete_rih.pdf

Size:

773.8Kb

Format:

application/pdf

Description:

Texto completo