European Americana. A chronological Guide to Works printed in Europe relating to the American. 1493-1776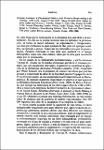 Date
1992-10-05
Author
De La Torre Villar, Ernesto
Abstract
Reseña de European Americana: A Chonological Guide to works Printed in Europe relating to the Americas. 1493-1776, Volume I:1493-1600; Volume II:1601-1650, Edited by John Alden and Dennis C. Landis; Volume V: 1701-1725; Volume V1:1726-1750; Dennis Channing Landis, Editor; Leslie Tobias, Mark N. Brown, Susan L. Newberry, Contributing Editors, New York and New Canaan, The John Carter Brown Library, Readex Books, 1980-1988.
xmlui.dri2xhtml.METS-1.0.item-relation
Torre Villar, Ernesto de la, "European Americana. A chronological Guide to Works printed in Europe relating to the American. 1493-1776", Estudios de Historia Novohispana, v. 12, n. 12, 1992.
Name:

3351-Texto del trabajo-3302-1-10-20091023.pdf

Size:

154.0Kb

Format:

application/pdf