Un mapa de la conquista de la Nueva España: El "Lienzo de Tlaxcala"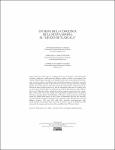 Date
2021
Author
Navarrete Linares, Federico
Jaramillo Arango, Antonio
Cossich Vielman, Margarita
Abstract
The aim of this paper is to analyze the Lienzo de Tlaxcala, a sixteenth-century document, taking into consideration the different publics to which it was targeted. One version of this document was sent to the Spanish crown, where it was inserted in the European courtesan tradition of wall decoration with gobelin tapestries exalting the monarchy military and religious victories. In this context, the Lienzo de Tlaxcala worked as a conquest tapestry. At the same time, if we take into account the visual structure of the document, the location of some of the key places in it, and the comparison with some 18th century texts, we can propose that the Lienzo was interpreted as a map by Mesoamerican readers. Hence, the Lienzo de Tlaxcala could be considered as both a conquest tapestry and a map, depending on the public and on the reading and interpretation parameters that were applied. The Lienzo narrative allowed the inhabitants of Tlaxcala to claim and protect their rights within the Spanish legal system. It was in these circumstances that they also produced several genealogic documents that linked the protagonists of the Mesoamerican wars and alliances between 1519 and 1541 with their sixteenth, seventeenth and eighteenth centuries' descendants. These are all part of what we can call an Indigenous social memory of the conquest, and its own archive, parallel to that of Western culture.
xmlui.dri2xhtml.METS-1.0.item-relation
Antonio Jaramillo Arango, Margarita Cossich Vielman y Federico Navarrete Linares, "Un mapa de la conquista de la Nueva España: El 'Lienzo de Tlaxcala'", Glocalism. Journal of Culture, Politics and Innovation, n. 2, 2021.
Name:

Arango_Vielman_Linares_gjcpi_2021_2.pdf

Size:

4.413Mb

Format:

application/pdf