Fray Maturino Gilberti y don Vasco de Quiroga: una controversia judicial, sobre un problema lingüístico y pastoral, en la Nueva España del siglo XVI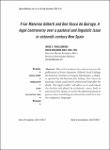 Date
2018-06
Author
Traslosheros, Jorge E.
Abstract
"En este artículo estudio la controversia en torno a la publicación del libro escrito por fray Maturino Gilberti, Diálogo de doctrina cristiana en lengua de Mechuacán, iniciada por el primer obispo de Michoacán don Vasco de Quiroga, pero resuelta muchos años después de su muerte. Un conflicto de índole judicial que nos permitirá comprender el decisivo papel que desempeñaron los tribunales eclesiásticos, dentro y fuera de la Nueva España, para dirimir los dilemas pastorales que implicaba la traducción de textos sagrados y doctrinales en las lenguas de los indios."
"This article analyzes the controversy over the publication of Friar Maturino Gilberti's book Diálogo de doctrina cristiana en lengua Mechuacán, a dispute sparked by Michoacán's first bishop, Don Vasco de Quiroga, which could not be settled until long after his death. This legal conflict will allow us to understand the decisive role played by ecclesiastic courts, both in and out of New Spain, to resolve the dilemmas faced by pastors when translating sacred and doctrinal texts into the indigenous languages."
xmlui.dri2xhtml.METS-1.0.item-relation
Traslosheros, Jorge E., Fray Maturino Gilberti y don Vasco de Quiroga. Una controversia judicial, sobre un problema lingüístico y pastoral, en la Nueva España del siglo XVI, Signos Históricos, Universidad Autónoma Metropolitana, Unidad Iztapalapa, Ciudad de México, v. 20, n. 40, julio-diciembre de 2018, p. 8-41.
Name:

206_2018_controversia_judicial_traslosheros.pdf

Size:

227.8Kb

Format:

application/pdf

Description:

Texto completo