La colonización del pasado: Pénjamo y la memoria del poblamiento de las fronteras novohispanas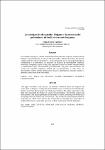 Date
2006
Author
Castro Gutiérrez, Felipe
Abstract
"Este trabajo reconstruye y analiza la memoria histórica sobre la conquista y colonización de Pénjamo, una población que en el siglo XVI consolidó y defendió la frontera del dominio español contra los indios 'chichimecas'. El autor argumenta que en esta pequeña población convergieron y se enfrentaron los proyectos de sociedad de encomenderos españoles, misioneros, indígenas y negros. Cada grupo reprodujo y recreó su historia, enriqueciéndola y modificándola según sus necesidades y conveniencias. Así, junto a la colonización real existió una conquista imaginaria: aquella que los protagonistas y, sobre todo, sus descendientes tejieron tiempo después para realzar su participación, reclamar derechos y pretender concesiones de las autoridades."
"This paper reconstructs and analyzes the historical memories about the conquest and colonization of Pénjamo, a village that in the XVIth century consolidated and defended the frontier of the New Spain against the 'Chichimeca' Indians. The author argues that in this little town converged the projects of society of encomenderos, missionaries, natives and black people. Each group reproduced and recreated its history, enriching and modifying it according to their necessities and conveniences. Thus, besides the real conquest existed an imaginary one, which was woven by the protagonists and specially their descendants to heighten their merits, claim rights and to try to obtain concessions from the authorities."
xmlui.dri2xhtml.METS-1.0.item-relation
Castro Gutiérrez, Felipe, "La colonización del pasado. Pénjamo y la memoria del poblamiento de las fronteras novohispanas", Fronteras de la Historia, Instituto Colombiano de Antropología e Historia, Bogotá, v. 11, 2006, p. 121-151. DOI: https://doi.org/10.22380/20274688.532.
Name:

200_2006_colonizacion_penjamo_castro.pdf

Size:

362.4Kb

Format:

application/pdf

Description:

Texto completo