Mitos y realidades sobre el origen del culto a la Virgen de Guadalupe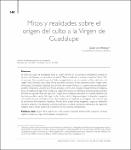 Date
2013
Author
Von Wobeser Hoepfner, Gisela
Abstract
"El culto a la virgen de Guadalupe tiene su origen remoto en un santuario prehispánico situado en el cerro del Tepeyac, al norte de la ciudad de México, dedicado a la diosa Tonantzin. Hacia 1525, el santuario fue convertido por los frailes evangelizadores en una ermita católica, dedicada a la virgen María. Para dar culto a ésta última, los frailes colocaron en ella una pintura de la Virgen como Inmaculada Concepción, realizada por un indio de nombre Marcos, y a la que pronto se atribuyeron poderes milagrosos. Durante las primeras décadas la ermita fue visitada principalmente por indígenas, pero a mediados del siglo XVII, el culto a la virgen del Tepeyac se extendió a todos los grupos sociales. Durante la segunda mitad del siglo XVI, surgió entre indígenas educados a la usanza española una leyenda que daba cuenta del origen de la ermita y de la milagrosa imagen. La leyenda conjuga las dos tradiciones que confluyen en la cultura mexicana: la española y la indígena. Así, a la vez que se inscribe en el marianismo hispánico, fincado en el poder de las imágenes, y sigue un desarrollo narrativo parecido a las leyendas marianas españolas, contiene numerosos elementos de raigambre indígena que lo sitúan dentro de la tradición de los pueblos prehispánicos."
"The worship of the Guadalupe's virgin has its origins from the remote Pre-Hispanic sanctuary established on the hill of Tepeyac, in the north of Mexico City, consecrated to the female god Tonatzin. Around 1525, the Sanctuary was transformed by the evangelize friars in a catholic shrine dedicated to Virgin Mary. The legend conjugates two traditions that converge in the Mexican culture. So, at the time it is subscribed to the Hispanic Marians, supported on the power of the images and it continues a narrative development so similar with the Hispanic Marian legends; it contains, also, numerous elements from the indigenous culture, achieving a position of tradition in the Pre-Hispanic towns."
"O culto à virgem de Guadalupe tem sua origem remota num santuário pré-hispânico situado no cerro do Tepeyac, ao norte da cidade do México, dedicado à deusa Tonantzin. Pelo ano de 1525, o santuário foi convertido pelos freis evangelizadores num eremitério católico, dedicado à virgem Maria. Para cultuar a essa última, os freis colocaram nela uma pintura da Virgem como Imaculada Concepção, realizada por um índio de nome Marcos, e a qual rapidamente foram atribuídos poderes milagrosos. Durante as primeiras décadas o eremitério foi visitado principalmente por indígenas, mas nos meados do século XVII, o culto à virgem do Tepeyac se estendeu a todos os grupos sociais. Durante a segunda metade do século XVI surgiu entre indígenas educados à moda espanhola uma lenda que dava conta da origem do eremitério milagrosa imagem. A lenda conjuga as duas tradições que confluem na cultura mexicana: a espanhola e a indígena. Assim sendo, à vez que se inscreve no marianismo hispânico, fundamentado no poder das imagens, e segue um desenvolvimento narrativo semelhante às lendas marianas espanhoas, contem numerosos elementos de reminiscência indígena que o situam dentro da tradição dos povos pré-hispânicos."
xmlui.dri2xhtml.METS-1.0.item-relation
Wobeser Hoepfner, Gisela von, "Mitos y realidades sobre el origen del culto a la Virgen de Guadalupe", Revista Grafía, Universidad Autónoma de Colombia, Bogotá, v. X, n. 1, enero-junio de 2013, p. 148-160. DOI: https://doi.org/10.26564/16926250.355.
Name:

31_2013_mitos_y_realidades_wobeser_rih.pdf

Size:

187.8Kb

Format:

application/pdf

Description:

Texto completo