Los prodigios de la Omnipotencia y milagros de la gracia en la vida de la venerable sierva de Dios Catarina de San Juan. Tomo III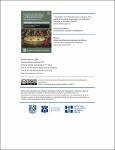 Date
2017
Abstract
"En esta obra, escrita a finales del siglo XVII por el jesuita Alonso Ramos, se relata la vida de una niña proveniente de la India, quien fue raptada por piratas y, después de pasar por numerosas aventuras y peripecias, llegó como esclava a casa de un rico comerciante de Puebla en 1619. Bautizada como Catarina de San Juan, gozó de gran prestigio en años posteriores, gracias a la vida austera y a sus experiencias místicas, que incluyeron numerosos encuentros con Jesucristo y la Virgen. A su muerte, le brindaron una exequias dignas de una reina, durante las cuales ponderaron su "santidad" y consideraron que su vida había enaltecido a la ciudad de Puebla. De lenguaje ameno y anecdótico, la obra es testimonio de la vida cotidiana novohispana de finales de siglo XVII, así como de la manera de pensar y sentir de las personas y de sus valores y aspiraciones. Asimismo, refleja el papel religioso y social que desempeñó la Compañía de Jesús en la sociedad, sus principios teológicos y su postura ante la mujer. La obra fue prohibida por la Inquisición en 1692 y casi todos los ejemplares existentes fueron destruidos, razón por la cual ha sido de difícil acceso y poco conocida. Esta edición está dedicada al gran público. La transcripción del original, que implicó la modernización ortográfica, fue realizada por los miembros del Seminario "Historia de las creencias y prácticas religiosas. Siglos XVI-XVIII", perteneciente al Instituto de Investigaciones Históricas de la UNAM, bajo la coordinación de Gisela Von Wobeser."
Written at the end of the seventeenth century by the Jesuit Alonso Ramos, this work tells the life story of a girl from India, who was abducted by pirates. After having many adventures and going through many unforeseen circumstances, she finally arrived in Puebla, on 1619, to serve as a slave in the house of a rich merchant. She was baptized as Catarina de San Juan. She later on acquired great prestige because of her austere life-style and her mystical experiences; which included many an encounter with the Holy Virgin and with Jesus Christ. When she died, obsequies worthy of a queen were given in her honour; during which the people deliberated on her "sanctity", and they considered that her life had served to exalt the name of their city. This work, an anecdotal narration written in a pleasing language, is a testimony on how every-day life was like in New Spain at the end of the seventeenth century, as well as on the thoughts and feelings of the people, their values and aspirations. It also reflects on the religious and social role of the Compañía de Jesús in society, on their theological principles and their views on women. As this work was forbidden by the Inquisition in 1692 and nearly all of the copies were destroyed it's not easy to gain access to it, and so the work is for the most part unknown. This edition is dedicated to the public. Coordinated by Gisela Von Wobeser, the transcription of the original text was made by the members of the seminar "Historia de las creencias y prácticas religiosas. Siglos XVI-XVIII", of the Instituto de Investigaciones Históricas of UNAM.
Primera edición impresa: 1689. Primera edición impresa UNAM: 2017. Primera edición digital en PDF: 2017
xmlui.dri2xhtml.METS-1.0.item-relation
Ramos, Alonso, Los prodigios de la Omnipotencia y milagros de la gracia en la vida de la venerable sierva de Dios Catarina de San Juan. Tomo III, edición digital en PDF, introducción y coordinación de Gisela von Wobeser, México, Universidad Nacional Autónoma de México, Instituto de Investigaciones Históricas, 2017 (Documental 31). Disponible en http://hdl.handle.net/20.500.12525/259.
Name:

681_03_R_completo.pdf

Size:

26.68Mb

Format:

application/pdf

Description:

Texto completo