De cómo ir de lo cualitativo e individual a lo serial y estructural en los libros de protocolos notariales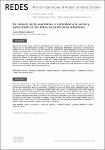 Date
2017
Author
Mijares Ramírez, Ivonne
Abstract
"Este texto explica cómo, desde la perspectiva de la historia y a partir de la estructura y la función propias de la documentación notarial, se fueron articulando diferentes conceptos y enfoques de análisis con el fin de convertir la información de una fuente eminentemente cualitativa, en datos seriales y cuantitativos, lo cual llevó a la construcción de un modelo relacional que además permite caracterizar y hacer explícitos diferentes tipos de relaciones sociales. El desarrollo de este modelo está sustentado en el estudio de una extensa colección de protocolos notariales, producidos en la ciudad de México en el siglo XVI, y forma parte de una investigación en curso que pretende demostrar que el estudio sistemático de las escrituras contenidas en los libros de protocolos de un escribano o notario, dada su forma, la índole de su contenido jurídico y su relación con una amplia gama de actividades sociales, nos ofrece una perspectiva excepcional para establecer un perfil de la estructura social dentro de la que se producen."
"This text explains how, from the history's perspective and from the own structure and function of notarial documentation, different concepts and approaches of analysis were articulated in order to convert the information from an eminently qualitative source into serial and quantitative data, which led to the construction of a relational model that also allows to characterize and make explicit different types of social relations. The development of this model is based on the study of an extensive collection of notarial protocols, produced in Mexico City in the 16th century, and is part of an ongoing research that seeks to demonstrate that the systematic study of the writings contained in the books of protocols of a scribe or notary, given its form, the nature of its legal content and its relation with a wide range of social activities, offers us an exceptional perspective to establish a profile of the social structure within which they produced."
xmlui.dri2xhtml.METS-1.0.item-relation
Mijares Ramírez, Ivonne, "De cómo ir de lo cualitativo e individual a lo serial y estructural en los libros de protocolos notariales", Redes: Revista hispana para el análisis de redes sociales, Universitat Autonoma de Barcelona, Barcelona, v. 28, n. 2, julio-diciembre de 2017, p. 62-80. DOI: https://doi.org/10.5565/rev/redes.712.
Name:

145_2017_cualitativo_individual_mijares_rih.pdf

Size:

1.532Mb

Format:

application/pdf

Description:

Texto completo