Los argumentos del ayuntamiento de México para destituir al corregidor en el siglo XVI: el pensamiento político novohispano visto desde una institución local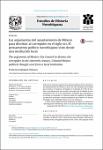 Date
2016-03-26
Author
Quijano Velasco, Francisco
Abstract
"El presente artículo analiza el pensamiento político de losmiembros del ayuntamiento de México a partir de una demanda presentada para remover el cargo de corregidor en la década de 1570. Al analizar el problema que representó la introducción al cabildo de este funcionario del rey y los argumentos utilizados para demandar a la Corona su remoción, se muestra cómo los regidores de México recuperaron principios constitucionalistas para definir los límites del poder real y defender frente al rey sus intereses."
"This article puts forward an analysis of the political thought of the members of Mexico City's local government through a petition of removal of the corregidor position in the 1570s. The analysis of the problem represented by the introduction of this royal officer to the city council and the arguments used to demand its removal show how the regidores of México recovered constitutional principles to define the limits of royal power and defend their interests against the king."
xmlui.dri2xhtml.METS-1.0.item-relation
Quijano Velasco, Francisco, "Los argumentos del ayuntamiento de México para destituir al corregidor en el siglo XVI. El pensamiento político novohispano visto desde una institución local", Estudios de Historia Novohispana, Universidad Nacional Autónoma de México, n. 55, julio-diciembre de 2016, p. 46-63. DOI: http://dx.doi.org/10.1016/j.ehn.2016.01.003.
Name:

113_2016_argumentos_ayuntamiento_quijano_rih.pdf

Size:

562.5Kb

Format:

application/pdf

Description:

Texto completo