La Iglesia, los fieles y la corona: la bula de la Santa Cruzada en Nueva España, 1574-1660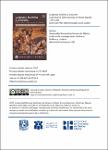 Date
2018
Author
Martínez López-Cano, María del Pilar
Abstract
"Para el siglo XVI, la bula de la Santa Cruzada era una concesión pontificia que otorgaba a los fieles la posibilidad de obtener un gran número de indulgencias y privilegios espirituales a cambio de una limosna, que en los dominios españoles estaba cedida a la Corona. En este libro se estudia la bula de la Santa Cruzada en Nueva España desde 1574, fecha en que se extendió su predicación a toda la población, hasta 1660. Estos años estuvieron marcados por el régimen de un solo contrato o asiento que cubría toda la provincia eclesiástica mexicana (obispados de Nueva España, Yucatán, Guatemala y Filipinas). Se examinan los antecedentes de la Cruzada en el Viejo Mundo, las negociaciones entre la Corona y la Santa Sede para el otorgamiento de la gracia, las controversias que originó su introducción en el virreinato, los distintos sumarios y privilegios que otorgaban, el precio y el tipo de ejemplares que adquirieron los fieles, así como los recursos que obtuvieron la Corona y los particulares que se encargaron de la distribución de los impresos y de la recaudación de las limosnas".
In the sixteenth century, the bull of the Holy Crusade was a papal concession that gave devotees the possibility of acquiring a large number of indulgences and spiritual privileges in exchange for alms; which, in Spanish dominions, were destined for the crown. This book studies the bull of the Holy Crusade in New Spain, from 1574 —when the king was allowed to extend its effects to the whole of the population— to 1660. This period of time was affected by the fact that it was a single contract, or agreement, that ruled over the entire Mexican ecclesiastical province —the bishoprics of New Spain, Yucatan, Guatemala and the Philippines. It also examines the antecedents of the crusade in the Old World, the negotiations between the Crown and the Holy See for the granting of grace, and the controversy that the introduction of the bull sparked in the viceroyalty. Furthermore, this work examines the different sumarios and privileges given by the bull, the type and the price of the prints that devotees acquired, as well as the resources obtained by both the Crown and the individuals who handled the distribution of these copies and the collection of alms.
Primera edición impresa: 2017. Primera edición digital en PDF: 2017. Primera edición digital en PDF con ISBN: 2018
La versión en PDF se generó a partir de los archivos editables de Indesign CC2018 correspondientes a la primera edición digital.
xmlui.dri2xhtml.METS-1.0.item-relation
Martínez López-Cano, María del Pilar, La iglesia, los fieles y la Corona. La bula de la Santa Cruzada en Nueva España, 1574-1660, edición digital en PDF, México, Universidad Nacional Autónoma de México, Instituto de Investigaciones Históricas, 2018 (Historia Novohispana 103). Disponible en http://hdl.handle.net/20.500.12525/130.
Name:

684_AD_completorepositorio.pdf

Size:

19.73Mb

Format:

application/pdf

Description:

Texto completo