La secularización de doctrinas y misiones en el arzobispado de México, 1749-1789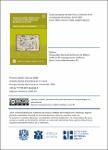 Date
2019
Author
Álvarez Icaza Longoria, María Teresa
Abstract
"La importancia del programa de secularización ha sido señalada en forma insistente por la historiografía. Sin embargo, faltaba realizar un estudio detallado del tema en el arzobispado de México. Este texto se ocupa del análisis del proceso de secularización de las doctrinas y de algunos enclaves misionales franciscanos existentes en esta demarcación. Aquí se aborda el proceso de larga duración a través del cual el equilibrio de poder al interior del clero fue variando. En el trabajo se explican las razones que llevaron a la aplicación intensiva del programa durante la segunda mitad del siglo XVIII. Se subraya el papel que tuvieron los arzobispos como impulsores principales del proyecto y se esclarecen los pormenores de las transferencias realizadas en el periodo de gobierno de cada uno de los tres prelados involucrados: Manuel Rubio y Salinas, Francisco Antonio de Lorenzana y Alonso Núñez de Haro, lo cual hace posible dilucidar los diferentes ritmos y prioridades de cada etapa; asimismo, pueden vislumbrarse distintas realidades regionales. Se analiza la interrelación entre las medidas dictadas por la Corona, la actuación del arzobispo en turno, el desempeño de las autoridades virreinales, la reacción de las órdenes religiosas, los reacomodos en el clero secular y la respuesta de la feligresía ante los cambios. Finalmente se examina el impacto de la secularización para los diversos sectores involucrados".
The importance of the secularization program had been pointed in insistent way by historiography. However, still needing a detailed study of the subject in the Mexican archbishopric. This text present an analysis of the process of secularization of doctrines and some missionary enclaves' existent in this delimitation. This work deal with the process of long duration through which the equilibrium of power inside of the clergy was modified. In this work are explained the reasons that take to the intense application of the program during the second half of the XVIII century. Is specially tackle the papers that the archbishoprics had as principal driving of the project and are clarified the details about the transferences realized in the period of government of Manuel Rubio y Salinas, Francisco Antonio de Lorenzana y Alonso Núñez de Haro, which makes possible to find different rhythms and priorities from each period, and at the same time can be seen different regional realities. It analyses the interaction between measurements dictated by the crown, the paper of the archbishopric, the performance of authorities, the reaction of religious orders and the response of them to the changes. Finally the impact of the secularization for the different sectors involved is analysed.
Primera edición impresa: 2015. Primera edición digital en PDF: 2015. Primera edición digital en PDF con ISBN: 2019
La versión en PDF se generó a partir de los archivos editables de Indesign CC2018 correspondientes a la primera edición digital.
xmlui.dri2xhtml.METS-1.0.item-relation
Álvarez Icaza Longoria, María Teresa, La secularización de doctrinas y misiones en el arzobispado de México, 1749-1789, edición digital en PDF, México, Universidad Nacional Autónoma de México, Instituto de Investigaciones Históricas, 2019 (Historia Novohispana 97). Disponible en http://hdl.handle.net/20.500.12525/127.
Name:

637_AD_completorepositorio.pdf

Size:

54.99Mb

Format:

application/pdf

Description:

Texto completo