Presencia misional en Nuevo Santander en la segunda mitad del siglo XVIII. Memoria de un infortunio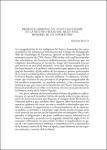 Date
1997
Author
Osante Y Carrera, Patricia
Abstract
This study presents an innovation in regional and national history, as it explains the missionary events that took place in Nuevo San­tander, located in Northeastern New Spain, during mid-18th century. The author, in order to analyze the misfortune of Franciscan missionaries, makes a detailed account of the evangelizing task undertaken by Jesuits in the Northwestern part of the country. Their political and economical influence in these regions drove Altamira marquis and other viceregal officials to create a new colonizing model as to reorient the socioeconomic horizon of the North. According to the historical circumstances prevailing, this comparative study concludes that the New Santander colony was the only space in the colonial Northern territory where the central government reduced importance and strength to the missionary system as a colonizing instrument. However the results did not respond at all to the interests of Spanish empire.
xmlui.dri2xhtml.METS-1.0.item-relation
Osante, Patricia, "Presencia misional en Nuevo Santander en la segunda mitad del siglo XVIII. Memoria de un infortunio", Estudios De Historia Novohispana, n. 17, 1997.
Name:

3454-Texto del trabajo-3405-1-10-20091023.pdf

Size:

214.8Kb

Format:

application/pdf