Dinámicas de conquista en las fronteras de la monarquía hispana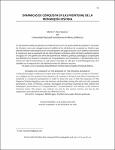 Date
2018
Author
Ríos Saloma, Martín F.
Abstract
"En el presente trabajo se plantea una reflexión en torno a la oportunidad de emplear el concepto de frontera como una categoría para el análisis de las dinámicas de conquista en América que permita insertar tales dinámicas en una perspectiva de larga duración con el objetivo de mostrar la manera en que la expansión de los reinos hispano-cristianos sobre territorio andalusí durante los siglos XIV y XV generó una serie de experiencias militares, políticas, ideológicas y espirituales que definieron la posterior actuación de conquistadores, encomenderos y representantes de la Corona en tierras americanas, la cual estuvo marcada no sólo por la actividad guerrera, sino también por la negociación y la mediación entre los distintos actores."
"In the present paper a reflection is raised about the opportunity to use the concept of 'frontier' as a category for the analysis of the dynamics of conquest in America that allows inserting such dynamics in a long-term perspective in order to show the way in that the expansion of the Hispano-Christian kingdoms over the territory of al-Andalus during the 14th and 15th centuries generated a series of military, political, ideological and spiritual experiences that defined the subsequent performance of 'conquistadores', 'encomenderos' and officers of the Crown in American lands. This actions was marked not only by the warrior activity, but also by the negotiation and mediation between the different actors."
xmlui.dri2xhtml.METS-1.0.item-relation
Ríos Saloma, Martín F., "Dinámicas de conquista en las fronteras de la monarquía hispana", Intus-Legere Historia, Universidad Adolfo Ibáñez, Facultad de Artes Liberales, Departamento de Historia y Ciencias Sociales, Viña del Mar, v. 12, n. 2, 2018, p. 187-213. DOI: https://doi.org/10.15691/%25x.
Name:

177_2018_dinamicas_conquista_rios_rih.pdf

Size:

409.4Kb

Format:

application/pdf